Information Regarding the Patient Protection and Affordable Care Act (ACA)
How employee eligibility is determined at Kalamazoo College
The following is an overview regarding how a part-time Kalamazoo College employee may become eligible under ACA regulations. For the first year, Kalamazoo College has elected to use a transitional measurement period starting on May 1, 2014 through October 31, 2014. To be eligible for a healthcare plan under ACA, you must have an average of 30 hours of service per week. Kalamazoo College offers benefits to employees who are anticipated to work an average of 20 hours or more per week over the course of one year and are considered "benefits eligible" when hired. Health insurance coverage begins on the date the employee is hired. Based on the average hours calculated during the transitional measurement period, an offering of a healthcare plan would be made for the stability period of January 1, 2015 through December 31, 2015, provided you remain an active employee with the College.
For subsequent years, hours will be tracked during a standard measurement period from November 1of the previous year through October 31 of the current year. Provided an employee has attained an average of 30 hours per week required to qualify under ACA regulation, an offering of a healthcare plan for the following plan year of January 1 through December 31 would be made, again provided you remain an active employee with the College. Should you qualify in the future under the above ACA guidelines, you will be notified by the Human Resources office of your eligibility. The Kalamazoo College administrative period is from November 1 through December 31.
Newly hired employees who are expected to work 20 hours per week or more on average are considered "benefits eligible" and are offered health insurance their first day of employment. All employees who are expected to work less than 20 hours per week on average are measured slightly differently during their first year of employment. An initial measurement period of twelve (12) months from a new hire's start date will determine the average weekly hours worked. Provided a new hire works an average of 30 or more hours per week during the initial measurement period, an offer of ACA healthcare plan coverage will be made to the new employee for an initial stability period of one (1) year from the effective start date of ACA healthcare plan coverage. The offer of ACA healthcare plan coverage will be made and have an effective start date within 60 days of the end of the initial measurement period. During the same period that a newly hired employee has their initial measurement period, they will also begin to be measured for eligibility purposes during the most recent standard measurement period utilized to measure hours for all other Kalamazoo College employees.
Kalamazoo College utilizes ACA tracking modules within the academic software Colleague to report hours worked for student employees and all non-benefit eligible positions. ACA reports from the Colleague software are monitored monthly to review employee eligibility. If employees meet the 30 hour per week test then the College will report them as full-time for the next stability/plan year and offer them health insurance.
Special calculations for adjunct non-benefits eligible positions:
Adjuncts – Hours worked are calculated as: 3.75 instructional hours multiplied by the 2.25 Affordable Care Act recommended multiplier for grading and prep work plus an additional 1.50 hours office time each week for a 10 week quarter. This is a total of 99.375 hours per term or approximately 39.75 hours per month per course instructed.
If you are a variable hour, part-time employee and feel you meet the qualifications for health care coverage under the Affordable Care Act but have not received an offer of coverage, please contact the employee benefits division at HR.Benefits@Kzoo.edu.
An important note regarding your healthcare plan coverage availability:
Kalamazoo College wants to make sure that employees are well-informed about the change in options that are now available to them. It is possible that you may qualify for a lower rate, which could be even greater when coupled with a tax subsidy, through the state and federally-operated Marketplace.
Beginning October 1, 2013, the federal government opened the Public Health Insurance Marketplace with more than 6 million people having enrolled in Marketplace coverage. The Marketplace open enrollment period for 2016 coverage will begin on November 1, 2015, and end on January 31, 2016 (a full three-month period).
Did you know? Based on the available Marketplace healthcare plans, and potential tax subsidies for which you may qualify, you could pay less for similar health insurance coverage through the Marketplace than you pay for your medical plan through Kalamazoo College. We encourage all of our part-time, benefit-eligible and/or ACA eligible employees to visit https://www.healthcare.gov/ to learn more information about, or enroll in, the Public Health Insurance Marketplace.
Did you know? You can find sample health insurance plans and rates from the Marketplace. By visiting HealthCare.gov's Plans and Prices page, you can review information through a simple, interactive questionnaire. After answering a few of the questions regarding the type of plan(s) you are looking for, the tool will provide the most applicable plan(s) for your situation, along with sample prices. These sample prices do not reflect any tax subsidy that you may be eligible for through the Marketplace.
Did you know? Based on your family income, you may qualify for a federal tax subsidy to help pay for the cost of your health insurance coverage through the Marketplace. You can find additional information regarding these tax subsidies and use a calculator to estimate a potential tax subsidy that you could qualify for with HealthCare.gov's Income Levels & Savings tool.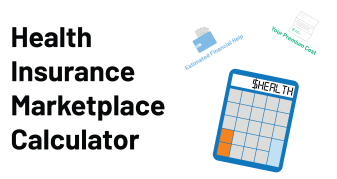 Did you know? The Health Insurance Marketplace Calculator, updated with 2020 premium data, provides estimates of health insurance premiums and subsidies for people purchasing insurance on their own in health insurance exchanges (or "Marketplaces") created by the Affordable Care Act (ACA). With this calculator, you can enter your income, age, and family size to estimate your eligibility for subsidies and how much you could spend on health insurance.
Did you know? The Marketplace can help individuals navigate the Medicaid program and/or Children's Health Insurance Program (CHIP). For families with limited income, the Marketplace will review the information and share it with the appropriate state agencies if it looks like you qualify. Based on the state agency review, you would be contacted regarding eligibility for the Medicaid and/or CHIP programs.
For more details regarding ACA, visit the United States Department of Labor Consumer Information on the Affordable Care Act.
What you'll learn when you apply in the Health Insurance Marketplace
When you use the Health Insurance Marketplace, you'll fill out an application and see all the health plans available in your area. You'll provide some information about your household size and income to find out if you can get lower costs on your monthly premiums for private insurance plans. You'll learn if you qualify for lower out-of-pocket costs.
The Marketplace will also tell you if you qualify for free or low-cost coverage available through Medicaid or the Children's Health Insurance Program (CHIP).
Most Americans will be eligible to use the Marketplace. Learn more about Marketplace eligibility.
The Health Insurance Marketplace is sometimes known as the health insurance "exchange."
What plans in the Marketplace offer
Insurance plans in the Marketplace are offered by private companies. They cover the same core set of benefits called essential health benefits. No plan can turn you away or charge you more because you have an illness or medical condition. They must cover treatments for these conditions. Plans can't charge women more than men for the same plan. Many preventive services are covered at no cost to you.
How the Marketplace presents plan information
The Marketplace simplifies your search for health coverage by gathering the options available in your area in one place. You can compare plans based on price, benefits, and other features important to you before you make a choice. Plans will be presented in four categories – bronze, silver, gold, and platinum – to make comparing them easier.
In the Marketplace, information about prices and benefits will be written in simple language. You get a clear picture of what premiums you would pay and what benefits and protections you would get before you enroll. Compare plans based on what is important to you, and choose the combination of price and coverage that fits your needs and budget.
Apply online, by mail, or in-person
Health Insurance Marketplace in Michigan
If you live in Michigan, you'll use the HealthCare.gov website to apply for coverage, compare plans, and enroll. Specific plans and prices became available on November 1, 2013, when Marketplace open enrollment began.. Coverage from the Marketplace has been available since January 1, 2014.
You can apply for Marketplace coverage three ways: online using the website above, by mail, or in-person with the help of a Navigator or other qualified helper. Telephone help and online chat are available 24/7 to help you complete your application. Downloadable and paper applications will be available October 1.
Open enrollment starts November 1, 2016. Plans and prices will be available on October 1, 2016. Coverage starts as soon as January 1, 2017. Open enrollment ends January 31, 2017.
Learn about your options if you need coverage that begins before January 1, 2017.
Questions? Visit www.HealthCare.gov; or call 1.800.318.2596, 24 hours a day, 7 days a week. (TTY: 1.855.889.4325)