The Office of Admission has 17 members, but… the ENTIRE campus is on the Admission team.
Of the entire Office of Admission, Suzanne Lepley has the longest time at K with 22 years.
The Admission team describes itself as Oozing Hornet Pride!
Surprising Facts
Our Assistant Director, Marcus Johnson, is a Veteran having served active duty in Iraq.
We have more fur-babies than human babies among the team.
Operation Manager, Teresa Fiocchi, is an award-winning chef.
The Admission office typically (pre-COVID) hosts close to 800 visitors in a year.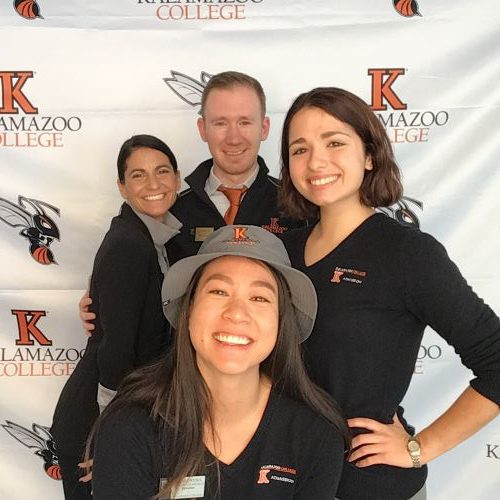 Three times per year, the Admission team hosts 100 students in the residence halls overnight for our Visit the Zoo program.
In 2019, we traveled to 37 states and 17 countries for recruitment.
Message for K Community
We absolutely cannot do this work alone! Every member of the College community is a member of the recruitment team. If a family is on a tour and they hear friendly chatter and laughter and see smiles as they walk around campus, they are more likely to choose K. A simple "hello" can make the difference in a student coming here or going elsewhere. Especially right now! The weeks leading up to May 1 (the national deadline for choosing a college) are the most critical in our work.